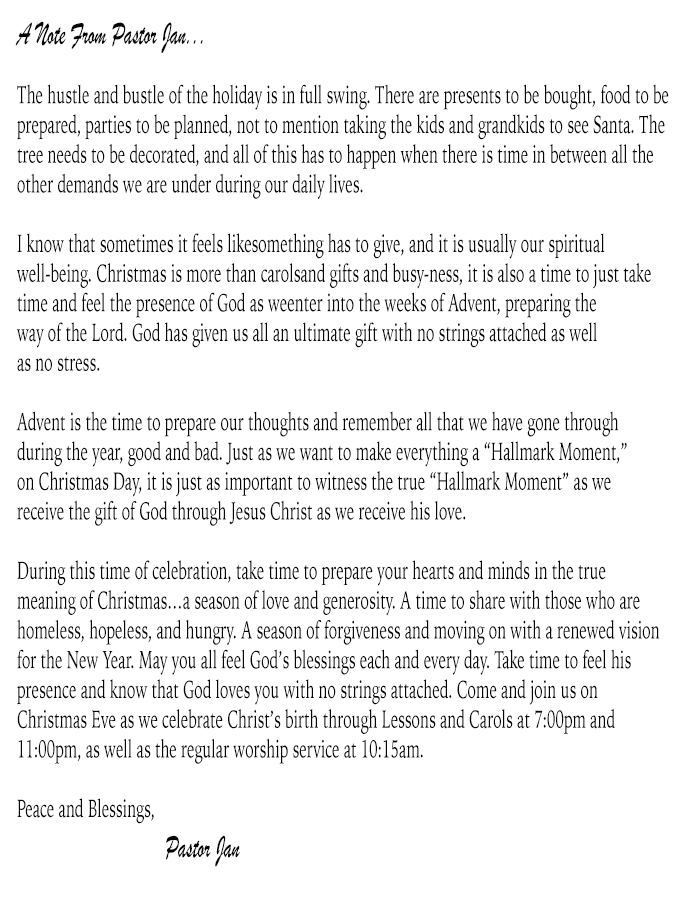 ---

2017 Christmas Season Schedule

Advent Bible Study:
"Faithful: Christmas Through the Eyes of Joseph" by Adam Hamilton. From his beginnings as a humble carpenter to his all-important role as the earthly father of Jesus Christ, Joseph's place in the Nativity story is sometimes overlooked but contains valuable lessons for all of us. His courageous actions were crucial to the birth of Christ and God's salvation plan for humanity. This study will begin this Wednesday, November 29th at 10:00am. Come and join us!


Socks! Socks! Socks!
We are once again collecting socks for those in the nursing homes. There is a basket at the rear of the sanctuary to collect the socks for Christmas.


Christmas Eve Services:
We will be having regular worship on Sunday, December 24th at 10:15am. At 7:00pm and 11:00pm, we will once again have our services of Lessons and Carols with the Lord's Supper at both services. Come and join us as we await the birth of our King and share in the Lord's Supper at the two evening services.
Christmas Program:
Our children and adult Sunday School classes will be presenting the annual Christmas program during our worship service on Sunday, December 17, 2017, at 10:15am. Come and hear the Good News through music and a play. Come and share in the birthday cake for Jesus following the worship service.
---